Baytril® Otic (enrofloxacin/silver sulfadiazine) Emulsion
When nasty canine otitis externa strikes, you need a powerful treatment option. Baytril Otic combines enrofloxacin and silver sulfadiazine (SSD) to fight Pseudomonas ear infections effectively.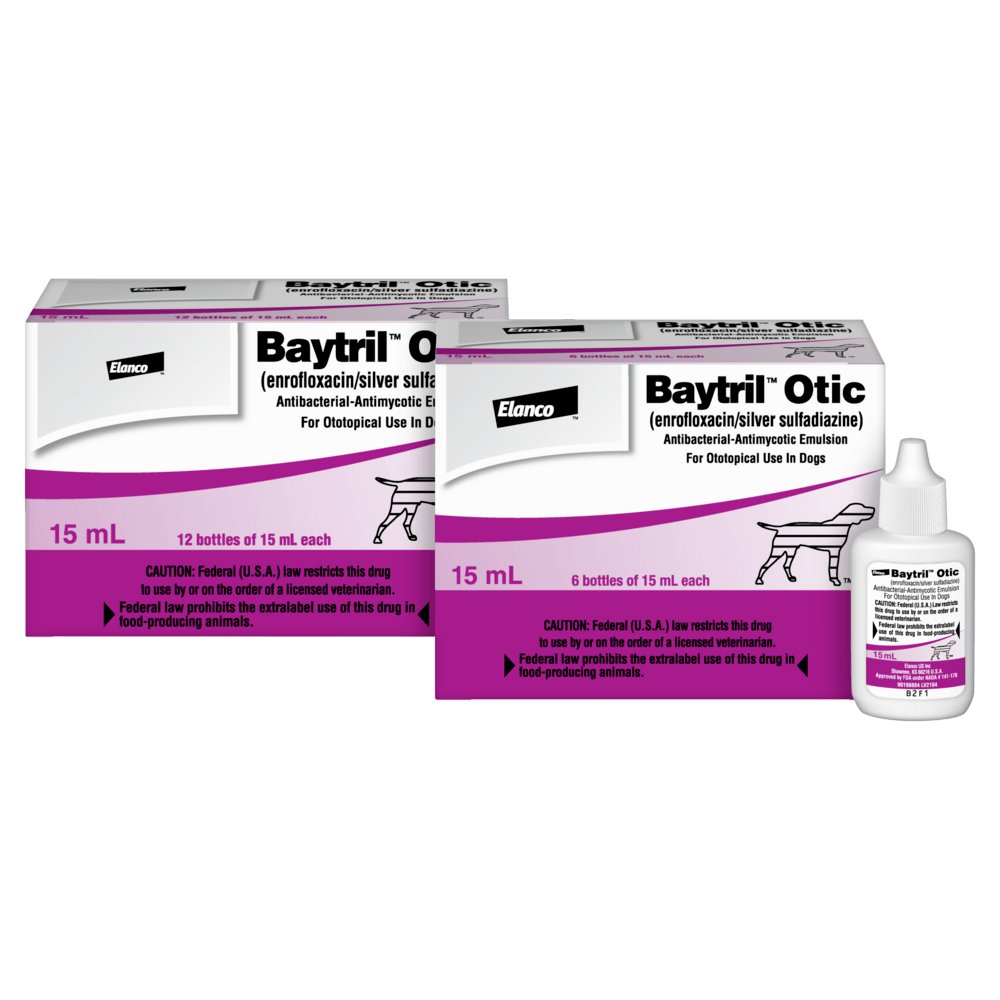 The only otic preparation that combines two active ingredients effective against Pseudomonas

Emulsions can distribute deep into the ear canal

Gentle on the ears, easy to administer and low-mess

Part of the trusted Baytril® family
Baytril Otic Product Information
Indication
Treatment of canine otitis externa
Active Ingredients
Enrofloxacin, Silver Sulfadiazine
Baytril Otic Dosing information
Weight of Dog - 35 lbs or less
Drops of Baytril Otic - 5-10 drops per treatment
Weight of Dog - Over 35 lbs
Drops of Baytril Otic - 10-15 drops per treatment
How Baytril Otic Works
Two active ingredients, one powerful combination against canine otitis externa
Step 1 : Only Baytril® Otic fights Pseudomonas with two mechanisms of action – enrofloxacin attacks on the inside while silver sulfadiazine attacks on the outside.
Step 2 : Baytril® Otic delivers up to 1,000 times the minimum amount of silver sulfadiazine (SSD) needed to kill tough Pseudomonas in vitro2,*
Baytril Otic is your go-to for fighting Pseudomonas
To place an order, please contact your Elanco Sales Representative.
Baytril® Otic (enrofloxacin/silver sulfadiazine) Emulsion
Indications
Baytril® Otic is indicated as a treatment for canine otitis externa complicated by bacterial and fungal organisms susceptible to enrofloxacin and/or silver sulfadiazine.
Important Safety Information
The use of Baytril® Otic in dogs with perforated tympanic membranes has not been evaluated. Therefore, the integrity of the tympanic membrane should be evaluated before administering this product. If hearing or vestibular dysfunction is noted during the course of treatment, discontinue use. Avoid contact with eyes. In case of contact, immediately flush eyes with copious amounts of water for 15 minutes. The use of Baytril Otic in dogs used for breeding purposes, during pregnancy or in lactating bitches has not been evaluated. Baytril Otic is contraindicated in dogs with suspected or known hypersensitivity to quinolones and/or sulfonamides. During clinical trials, dogs exhibited acute inflammation of the ear canal and pinna. See product label for more information.