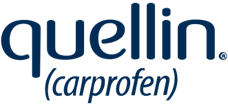 quellin® (carprofen) Soft Chews
quellin is indicated for the relief of pain and inflammation associated with osteoarthritis and the control of post-operative pain associated with soft tissue and orthopedic surgeries in dogs
quellin is designed with a meaty flavor with no animal proteins1.

quellin is easy for dogs to chew, with scoring that makes proper dosing easy
quellin Product Information
Indication
Pain management associated with post-surgical and osteoarthritis pain
Uses
Pain and inflammation of osteoarthritis; post-surgical pain
quellin Dosing And Administration
Dog weight(lbs) - quellin 25mg soft chew
5-10 - 1/2 chew
11-15 - 1 chew
16-20 - -
21-30 - -
31-40 - -
41-60 - -
61-90 - -
91-120 - -
Dog weight(lbs) - quellin 75mg soft chew
5-10 - -
11-15 - -
16-20 - 1/2 chew
21-30 - -
31-40 - 1 chew
41-60 - -
61-90 - -
91-120 - -
Dog weight(lbs) - quellin 100mg soft chew
5-10 - -
11-15 - -
16-20 - -
21-30 - 1/2 chew
31-40 - -
41-60 - 1 chew
61-90 - 1 1/2 chews
91-120 - 2 chews
| Dog weight(lbs) | 5-10 | 11-15 | 16-20 | 21-30 | 31-40 | 41-60 | 61-90 | 91-120 |
| --- | --- | --- | --- | --- | --- | --- | --- | --- |
| quellin 25mg soft chew | 1/2 chew | 1 chew | - | - | - | - | - | - |
| quellin 75mg soft chew | - | - | 1/2 chew | - | 1 chew | - | - | - |
| quellin 100mg soft chew | - | - | - | 1/2 chew | - | 1 chew | 1 1/2 chews | 2 chews |
Use the lowest effective dose for the shortest duration consistent with individual response. The recommended dosage for oral administration to dogs is 2mg/lb of body weight daily. The total daily dose may be administered as 2mg/lb of body weight once daily or divided and administered as 1mg/lb twice daily. For the control of postoperative pain, administer approximately 2 hours before the procedure. quellin soft chewable tablets are scored and dosage should be calculated in half-tablet increments. Soft chewable tablets can be halved by holding the tablet on each side of the scored line and pressing up the middle to break the tablet into two pieces. Care should be taken to ensure that the dog consumes the complete dose.
How To Get quellin?
Contact your local Elanco rep, distributor rep or call Elanco at 1-888-545-5973
quellin® (carprofen) Soft Chews
INDICATION:
quellin is indicated for the control of postoperative pain associated with soft tissue and orthopedic surgeries in dogs.
IMPORTANT SAFETY INFORMATION:
For use in dogs only. Do not use in cats. All dogs should undergo a thorough history and physical examination before initiation of NSAID therapy. Appropriate laboratory tests to establish hematological and serum biochemical baseline data prior to, and periodically during, administration of any NSAID should be considered. Owners should be advised to observe for signs of potential drug toxicity. For complete safety information, see the accompanying product label.