Seresto® Flea & Tick Collar for Cats
The Seresto collar provides cats with clinical strength, flea and tick protection for 8 continuous months. Without the need for a prescription, the #1 Vet Recommended flea and tick collar provides premium protection without the premium price tag.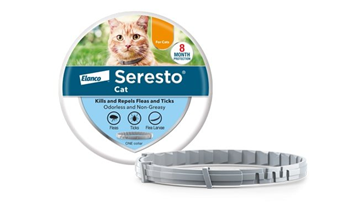 Provides 8 continuous months of clinical-strength flea and tick protection for cats.

Seresto kills and repels fleas and ticks through contact, no biting required.

Seresto is odorless and non-greasy.

Seresto collars are easy to apply and are designed with a ratchet-release mechanism to allow for quick removal.
Seresto Product Information
Indication
Kills and repels fleas and ticks through contact for up to 8 months.
Spectrum
Fleas, flea larvae, and ticks
Protects against 4 common tick species: Deer tick, American Dog tick, Brown Dog tick, and Lone Star tick
Active ingredients
Imidacloprid and flumethrin
Discover the efficacy and safety profile of Seresto
More than 71 million Seresto collars have protected dogs and cats from fleas and ticks.
Species - Seresto Cat
Size - All sizes, 10 weeks of age and older
Number of collars - 1
Insert the end of the collar through the buckle.

Adjust the collar around the cat's neck without it being too tight or too loose. It should be possible to insert two fingers next to each other comfortably between the collar and the neck.

Pull excess collar through the loop(s). Collar length greater than 1 inch beyond the loop(s) should be cut off unless it is on a growing kitten.

Three reflector clips may be fixed permanently to the collar to increase your cat's visibility in the dark. Evenly distribute the clips on the non-overlapping part of the collar. The clips are correctly applied when a clicking sound is heard.
Seresto® Flea & Tick Collar For Cats
Scratching may be observed occasionally in cats that are not used to wearing collars during the first few days after fitting. Clients should ensure the collar is not fitted too tightly. Slight hair loss and mild skin reactions due to the mechanical irritation of the collar may occur at the application site; this usually clears within one or two weeks without the need for collar removal.
Do not open until ready to use. Keep out of reach of children; do not let children play with the collar or reflectors. Choking hazard; contains small parts.
For external use on cats only. Do not use on other animals. Not intended for use on humans.
For more information, please refer to the Product Label.