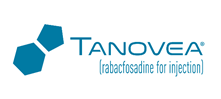 Hundreds of reasons to treat canine lymphoma again
Tanovea® (rabacfosadine for injection) is the first and only FDA fully approved treatment for canine lymphoma, offering renewed confidence for a different approach at first rescue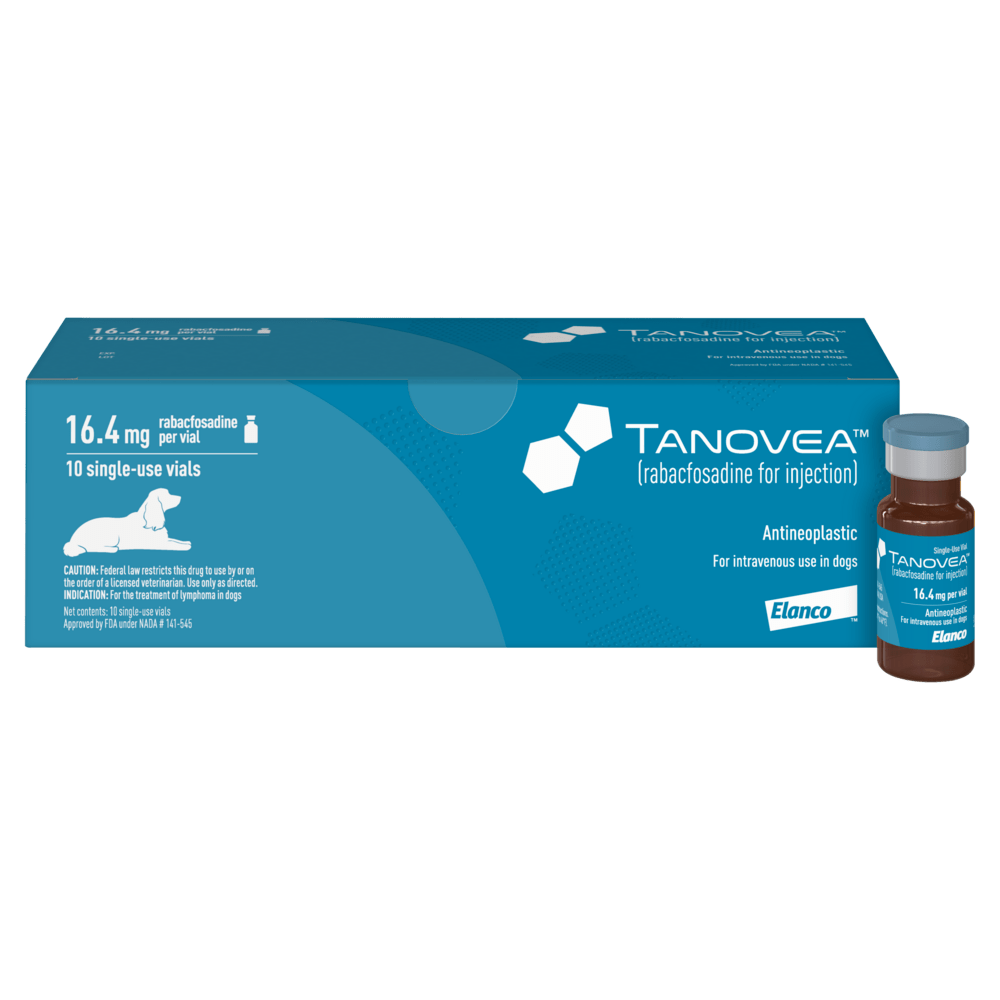 Tanovea is proven effective in canine lymphoma and offers:
A novel mechanism of action (MOA) designed to target lymphoma¹

73% Overall Response Rate (ORR)*

151 days median progression-free survival (PFS) in responding dogs*

Convenient 3-week treatment intervals
Choose a different option for canine lymphoma treatment with Tanovea
Tanovea's MOA is different from commonly used agents in canine lymphoma.1-4
Tanovea preferentially targets cancerous lymphoid cells, where it is converted to its active metabolite.1
It inhibits DNA polymerases α, δ and ε, which results in DNA synthesis arrest and induction of programmed cell death.1
As a double prodrug with an affinity for neoplastic lymphoid tissue, this limits its off-target toxicity.1
A non-overlapping MOA has the potential to overcome emergence of treatment resistance.1
Tanovea has been clinically proven to be effective at first rescue.†
In a subgroup of 30 dogs with relapsed B-cell lymphoma that had received one prior chemotherapy regimen, Tanovea demonstrated:†

Tanovea is a generally well-tolerated treatment for canine lymphoma
Most of the adverse events (AEs) associated with Tanovea were Veterinary Cooperative Oncology Group (VCOG) grade 1 or 2.
AEs can be managed with dose delays or stepwise dose reductions.
AEs associated with Tanovea included diarrhea, hyporexia, weight loss, vomiting, lethargy and neutropenia.
Dermatologic changes such as otitis, alopecia, dermatitis, erythema, pruritus and hyperpigmentation have also been observed.
Choose a different option for canine lymphoma treatment with Tanovea
Offer renewed confidence to treat canine lymphoma again with Tanovea
Tanovea is now the first and only FDA fully approved treatment for canine lymphoma, offering renewed confidence for a different approach at first rescue.
INDICATION: Tanovea is indicated for the treatment of lymphoma in dogs.
IMPORTANT SAFETY INFORMATION: Tanovea is not for use in humans. Keep out of reach of children. Do not come into direct contact with Tanovea. Wear chemotherapy-resistant gloves to prevent contact with feces, urine, vomit, and saliva of treated dogs for five days following treatment. Rabacfosadine is cytotoxic and may cause birth defects and affect female and male fertility. Pregnant women, those who may become pregnant, and nursing women should not handle, prepare or administer the product. Tanovea is associated with life-threatening or fatal pulmonary fibrosis. Monitoring for signs of pulmonary dysfunction is recommended. Do not use in dogs with pulmonary fibrosis, a history of chronic pulmonary disease that could lead to fibrosis, or in breeds with a predisposition to this condition such as West Highland White Terriers. Use with caution in other terrier breeds. Do not use in dogs that are pregnant, lactating, or intended for breeding. Tanovea is associated with dermatopathies which can worsen with subsequent treatment; careful monitoring is recommended. Tanovea can cause neutropenia with nadir around seven days post-treatment. Dogs should be frequently monitored for evidence of neutropenia during treatment. Most common adverse reactions included diarrhea, decreased appetite, emesis, lethargy, weight loss and neutropenia.
Please see Tanovea product label for full Prescribing Information.