Deramaxx® (deracoxib)
The flexible, trusted relief for canine osteoarthritis and post-op pain & inflammation.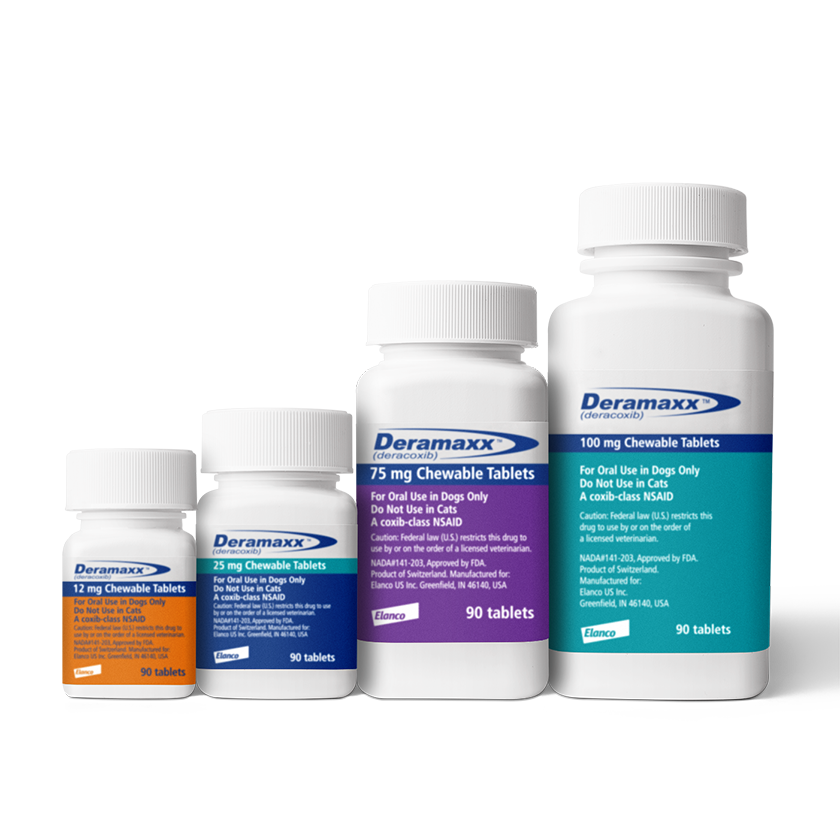 Up to 24 hours of pain relief

For dogs from 7 to 220 lbs

Easy to administer, scored tablets
Deramaxx Product Information
Indication
Controls pain and inflammation associated with osteoarthritis, orthopedic surgery or dental surgery in dogs.
Formulation
Flavored and scored chewable tablets
Deramaxx Dosing and Administration
Indication - Osteoarthritis pain and inflammation
Dosage - 0.45 – 0.91 mg/lb/day
Frequency - As needed
Indication - Postoperative orthopedic pain and inflammation
Dosage - 1.4 – 1.8 mg/lb/day
Frequency - As needed, not to exceed 7 days of administration
Indication - Postoperative dental pain and inflammation
Dosage - 0.45 – 0.91 mg/lb/day
Frequency - For 3 days
Deramaxx is available in 12mg, 25mg, 75mg and 100mg tablets
Tried. True. Trusted.
Deramaxx gives you flexible, customizable dosing options, helping you give needed relief to a wide range of patients, big and small.
Indications:
DERAMAXX Chewable Tablets are indicated for the control of pain and inflan1n1ation associated with osteoarthritis in dogs.
Important Safety Information:
Not for use in humans. For use in dogs only. Keep this and all medications out of the reach of children and pets. Store out of reach of dogs and other pets in a secured location in order to prevent accidental ingestion or overdose. As with all drugs in this class, side effects involving the digestive system, kidneys or liver may occur. These are normally mild, but may be serious. Pet owners should discontinue therapy and contact their veterinarian immediately if side effects occur. All dogs should undergo a thorough history and physical examination before using DERAMAXX. Regular monitoring is recommended. Use with other NSAIDs or corticosteroids should be avoided. Please see the product insert for full prescribing information.