Varenzin™-CA1 (molidustat oral suspension) is the FIRST and ONLY FDA conditionally approved option for the treatment of non-regenerative anemia in cats with chronic kidney disease (CKD), setting the new standard of care for cats suffering from the debilitating effects of this often fatal disease.
Learn More
Stay in the Know
A REVOLUTIONARY NEW TREATMENT IN THE FIGHT AGAINST CKD-RELATED ANEMIA
A first of its kind in veterinary medicine, Varenzin-CA1 stimulates a cat's body to create its own erythropoietin (EPO)*

Reasonable expectation of efficacy with minimal side effects¹

Approved for convenient at-home treatment; no in-clinic injections needed

No costly and inconvenient extra label use of erythropoietin stimulating agents (ESAs)
*Versus administering with a human EPO product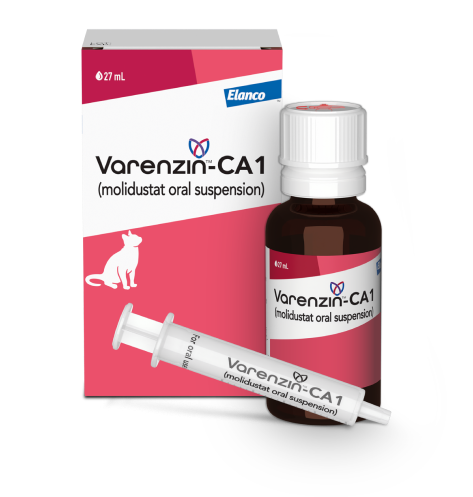 How VARENZIN-CA1 works
Anemia is caused by several factors related to kidney disease, primarily a reduction of erythropoietin (EPO), a hormone released from the kidneys that signals bone marrow to make red blood cells.2
Developed exclusively for cats, Varenzin-CA1 features a mode of action that induces the genetic transcription of EPO, increasing both EPO and red blood cell production in a cat's body.1
BREAKTHROUGH INNOVATION MEETS AT-HOME CONVENIENCE
Varenzin-CA1 is a flavored, orally administered liquid given once daily that's convenient and simple to dose.
Shake well before use. Remove screw cap.

Place the enclosed syringe nozzle firmly into the opening of the bottle.

Turn the bottle upside down and withdraw necessary volume. Turn the bottle upright before removing syringe.

Administer directly into the cat's mouth.
VARENZIN-CA1 DOSING INFORMATION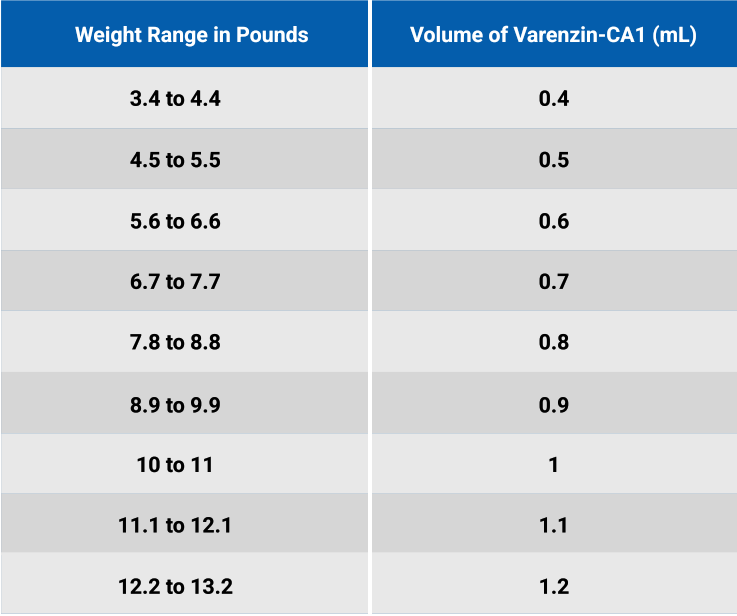 EMPOWERED WITH EFFICACY
In a series of multicenter studies,1 Varenzin-CA1 was shown to have a reasonable expectation of efficacy managing anemia in CKD cats.
PERCENTAGE OF CATS WITH INCREASED HEMATOCRIT**

**Relative increase in HCT of >25% above baseline or an absolute increase in HCT of >=4% above baseline
†Field effectiveness and safety study, effectiveness phase
††Field effectiveness and safety study, continuation phase
PROVEN SAFETY
The safety of Varenzin-CA1 was established in laboratory studies and field safety and effectiveness studies. There were minimal side effects with vomiting being the most frequently reported adverse effect.1
WANT TO LEARN MORE ABOUT VARENZIN-CA1?
Register today to stay informed on Varenzin-CA1 product updates.
Varenzin™-CA1 (molidustat oral suspension) FAQs
Indication
Varenzin-CA1 is indicated for the control of nonregenerative anemia associated with chronic kidney disease (CKD) in cats.
Important Safety Information
For oral use in cats only. Keep this drug, including used syringes, out of reach of children. Wash hands immediately after use. In case of accidental ingestion, seek medical advice immediately. Women who are pregnant or may become pregnant should administer the product with caution. Varenzin-CA1 should not be administered to cats that are pregnant, lactating or intended for breeding or to cats with known hypersensitivity to molidustat. Use with caution in cats with a history of seizures and in cats predisposed to thromboembolic disease. Hematocrit (HCT) or packed cell volume (PCV) levels should be monitored regularly as polycythemia may result from use of Varenzin-CA1. Varenzin-CA1 has not been evaluated in cats less than 1 year of age. The most common adverse reactions included vomiting, increases in systolic blood pressure and mild transient increase in serum potassium. Click here for full prescribing information.